One of the symbols of Varna is the building of our university. This year the building is honored by a prestigious jury of 24 members, composed of respected representatives of professional communities, as the winner in the category "Cultural buildings monuments, museums, temples" in the National Contest "Building of the Year 2015" – the most prominent event in Bulgarian in the sphere of investment projects, construction and architecture.
The official ceremony was held on the 9th of December, 2015 in Sofia. The event was attended by ministers, mayors and public figures. The annual contest is held under the patronage of the Minister of Regional Development and Public Works – Mrs. Lilyana Pavlova.
The prize for the University of Economics – Varna was officially bestowed to the Rector of the University – prof. Plamen Iliev, PhD.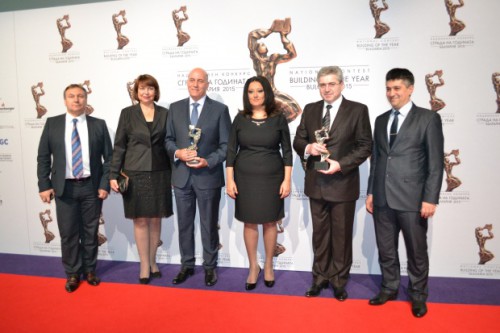 The ceremony will be broadcasted on the 12th of December, 2015 (Saturday) at 3:00 PM on the National Television (BNT1); and on the 19th of December, 2015 (Saturday) at 3:25 PM on the satellite National Television (BNT World).
The main building of the UE-Varna was declared as cultural property under the number 658 of the historic-cultural properties in 1987. In 2015 the Minister of Culture declared the university building as an ensemble of cultural monuments.
The University of Economics – Varna is established in June 1904. The academic building is designed by architect Nikola Lazarov, and supervisor of the construction was Danbko Dabkov, architect and aristocrat.
The architectural style of the academic building is in the spirit of French Renaissance, including elements of classical Western European Baroque. The layout of the pediment above the main entrance is spectacular work of sculptor Kiril Shivarov. This is a composition of two antique figures: the Greek god Hermes (corresponding to the Roman god of trade Mercury) who holds in his left hand rod of merchants, and the Greek goddess of wisdom Athena with an open book on her knees.
Behind the two figures is depicted the globe, between them is the laurel branch of glory and peace. The idea is to show unity and global significance of science, trade and industry. The image of a boat with rowers symbolizes hard, purposeful and collective labor, required for any meaningful public work. On the highest place was built lighthouse tower, a symbol of the guiding role of scientific knowledge.